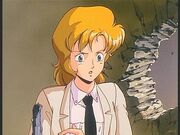 Background
Edit
In Riding Bean, a prototype version of Rally was featured as Bean's partner. This version of Rally is portrayed as a fair-skinned blonde, but is still as equally-skilled in firearms as the Rally in 'Gunsmith Cats. In regards to her relationship to Bean, it could be described as friendly but professional.
Voice Actors (anime)
Edit
JAPANESE - Naoki Matsui (松井 菜桜子)
ENGLISH - Brennan McKenzie
Ad blocker interference detected!
Wikia is a free-to-use site that makes money from advertising. We have a modified experience for viewers using ad blockers

Wikia is not accessible if you've made further modifications. Remove the custom ad blocker rule(s) and the page will load as expected.