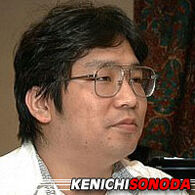 FACT SHEET
Edit
NAME (Romanji) - Kenichi Sonoda
NAME (Kanji) - 園田 健一
DATE OF BIRTH - December 13, 1962 (current age: 54)
PLACE OF BIRTH - Kumamoto, Kumamoto Prefecture, Japan
CAREER HIGHLIGHTS
Edit
Originally worked at animation studio ARTMIC from 1984 until 1991 (ARTMIC was liquidated in 1997).
Was a principal artist on the anime series "Bubblegum Crisis" during his term with ARTMIC.
He is currently publishing the manga "Bullet the Wizard".
Sonoda is currently married to children's book author Wartka Unicha.
He owns several replica gun models; Japan is gun-controlled, so actual working guns are not permitted.
MANGA TITLES
Edit
ANIMATION PROJECTS
Edit
VIDEO GAME PROJECTS
Edit
Suchie-Pai, The Idol Fighter (1993-ongoing series)