Background
Edit
A policewoman within the Chicago Police Department, Kate often works alongside Roy, especially when cleaning up the messes Rally and May get into. Although a minor character, in the third episode, she played a significant part in the capture of Haints. Not long after Radinov was captured, Kate impersonated Radinov by wearing a coat similar to the assassin's bulletproof coat, a wig similar to the hairdo Radinov wears, and standing on a milk crate to mimic Radinov's height. Then holding a microphone while Becky videotaped from a hidden location, she helped implicate Haints in his gunrunning scheme as well as hiring Radinov to kill Rally and May.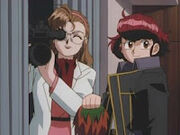 Kate physical appearence in Episode Three is similar to that of Misty Brown's, only older.
Voice Actors
Edit
JAPANESE - Akiko Hiramatsu (平松 晶子)
ENGLISH - Carol Amerson
Ad blocker interference detected!
Wikia is a free-to-use site that makes money from advertising. We have a modified experience for viewers using ad blockers

Wikia is not accessible if you've made further modifications. Remove the custom ad blocker rule(s) and the page will load as expected.